The Premier Mobile Wood Fired Kitchen
A Portable Artisanal Pizzeria on Wheels
The ultimate answer to mobile wood-fired cooking – the Pizza Trailer. This is the premier mobile pizza oven catering trailer available, fully equipped with the finest durable kitchen equipment and reliable traditional Pavesi oven; a catering outfit could not ask for more.
The Pizza Trailer comes with a beautifully finished Pavesi wood-fired RPM 120 or 140 pizza oven, attachable stainless steel work tables, full pizza prep station within the interior, refrigeration, cool dough storage space, firewood storage, and tool storage locker with a hot/cold water stainless steel sink. An 8 foot extendable canopy above the service area provides comfort in any climate.
The mobile Pizza Oven Trailer has the capability to remain on the road serving pizza for days on end – without the need for restocking.

RPM Pavesi Traditional
Italian Pizza Oven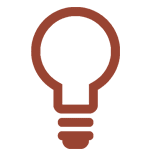 Generator Ready:
Outlets and
Inset Lighting

Two Door Refrigerator
+
Toppings Pans

Hot/Cold Running Water
+
Water Tanks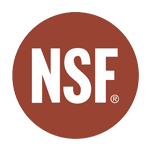 NSF Approved Surfaces
+
Prep Tables
GET FIRED UP!
Ready to fire up your own Pizza Trailer?
Find out more about pricing & specifications, financing terms – and get an official quote!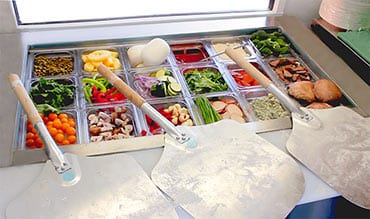 Applied Kitchen Ergonomics for the
Mobile Pizzeria
2 pizzaiolo can maintain a steady flow of baking – the internal work space provides an ingredient shelf (accessible from interior and exterior) and direct access to the refrigerator, allowing the chef to work from a protected space and pass the pizzas through the service window. The outdoor worktable comes with the Pizza Stack, which allows the pizzaiolo to stack up to 12 pizzas and conserve space.
Mobile Pizza Oven Optimized for Staff Workflow
Built to scale to the employees/clientele with both an interior and exterior dough/pizza prep workspace.
Pizza Stack Keeps The Prep Tables Clear of Finished Product
Bake Unbelievable Wood Fired Pizza
from a Completely Mobile Pizzeria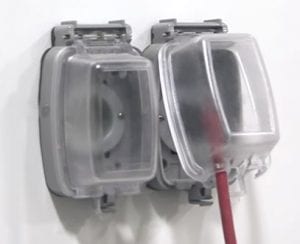 Custom Hand Wash Sink
10″ deep sink basin
2.5 gallon water heater: adjustable temp from 95-155ºF
5 gallon fresh water tank / 6 gallon waste water tank
Handles for fresh & waste tanks make it easy to fill and empty
Fill fresh water tank & ready to operate
Fresh water tank enough for 80 hand washings
Custom Pizza Prep Table Refrigerator
Total dimensions: 48″W x 32″D x 45″H
Unit can hold full-sized (18″W x26″D) sheet pans
Easy access to refrigerated toppings tray
Keep toppings cool during operation
Two full self-closing hinged doors
Automatic internal refrigerator light
Plug and Play Electricity
2 x 15 amp circuit breaker connection from generator or wall outlet provides all kitchen equipment power
Six unused individual outlets for additional equipment
Four recessed mood lights over oven mouth and two interior work lights provided