Excels at 55%-70% Dough Hydration
Choose between 44kg & 60kg models
Simple, delicious, & efficiently-mixed dough
The mixing process is the first step of making great dough – and it's a critical one. The Spiral Mixer gently twirls the dough over on itself in a thorough, yet gentle manner. This particular physical motion reduces friction and its resultant heat, which seriously hampers the development of flavor during fermentation.
The Spiral Mixer's small form factor also makes it a great choice for tight spaces, where it can even be stored under the counter when not in use. The Spiral Mixer's elegantly simple design minimizes moving parts and is designed to reduce mechanical maintenance – making it a reliable choice for the fast-paced kitchen environment.
Two Models
Choose between the split phase single speed mixer, or the three phase twin speed mixer
Built-in Timer
Set timer as desired and let it mix
Simple Maintenance
High quality stainless steel construction and caster wheels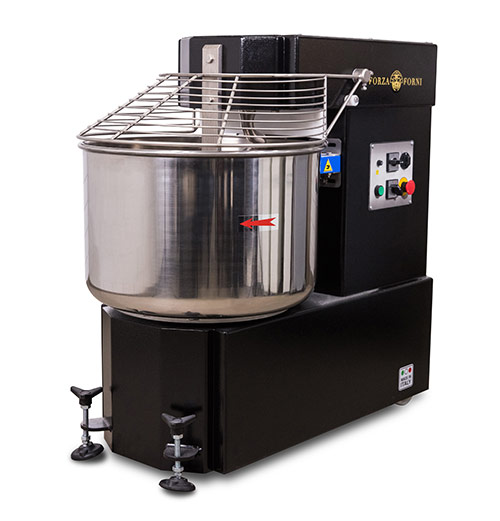 The 44kg model is the perfect choice for those without a three phase connection.
Meanwhile, the 60kg model can mix a single 55lb commercial flour bag at 60% hydration; eliminating the need to measure flour manually
AVPN Approved
Associazone Verace Pizza Napoletana approved for the mixing of authentic Neapolitan pizza dough
Dough Capacity

Bowl Volume

Flour Capacity

Dough Hydration

Phase

Voltage

Current

Frequency

*Split Phase requires two 1-phase 15 amp circuit breakers
Weight

Width

Depth

Height

MOTOR POWER

Bowl Rotation Speed

Tool Rotation Speed

Rotation Direction

Dough Capacity

Bowl Volume

Flour Capacity

Dough Hydration

Phase

Voltage

Current

Frequency

Weight

Width

Depth

Height

MOTOR POWER

Bowl Rotation Speed

Tool Rotation Speed

Rotation Direction